61f5efd8cf09952bcb829efd-regular
Foxwell Bt705 Car Truck 12V 24V Battery Tester 100-2000Cca Battery Analyzer Tester Charging System For Agm Spiral Gel B
Foxwell Bt705 Car Truck 12V 24V Battery Tester 100-2000Cca Battery Analyzer Tester Charging System For Agm Spiral Gel B
FOXWELL BT705 Auto 12V 24V Car Truck Battery Tester Analyzer Check Battery Health Starting Charging System For AGM Spiral GEL Batteries
Support Languages:
language pack 1:English,Dutch,Spanish,French,German
language pack 2:English,Polish,Russian,Italian,Portuguese,Turkish
The latest BT-705 (100-2000CCA)Battery Analyzer form Foxwell is dedicatedly developed to test  12V regular flooded, AGM flat plate,AGM spiral and gel batteries and12V & 24Vstarting and charging system.It provides a quick,easy and affordable solution for technicians to check battery health and detect faults of starting and charging system.
Why choose FOXWELL BT705 Car Battery Tester?
1. More accurate,exclusive patent,focus on test field
2. More economic, performance is as same as world famous one, lower price.
3. Easy to use, display result in 3 secs.
4. Good package, all goods are packed very carefully with cartons or cases.
5. Fast delivery, we have abundant stock, may delivery goods in 1-2days.
FOXWELL BT705 12V 24V Car Battery Tester Support Vehicles:
1. 12V Car Battery Tester
2. 24V Duty Truck Battery Tester
Features and Functions:
* Multiple vehicle applications –passenger cars and duty trucks
* Tests batteries from rated from 100 to 2000CCA
* Tests multiple battery types- regular flooded,AGM flat plate ,AGM spiral and gel
* Tests multiple rating systems-CCA,BCI,CA,MCA,JIS,DIN,IEC,EN,SAE,GB
* Tests the batteries on the car directly- no need to remove the battery
* Detects bad cells
* Quick and accurate test result display in just 3 seconds
* Tests 12&24 volt charging system
* Advanced starter /alternator test
* Quick starter analysis without disabling the ignition
* Does not emit light,heat or spark ,or discharge battery-keeps operation safe for all levels of users
* Automatic temperature compensation
* Ripple voltage test for easy and intuitive check of faults
* Extremely easy to use with large backlight LCD display and menu-driven operation
* Optional Bluetooth printer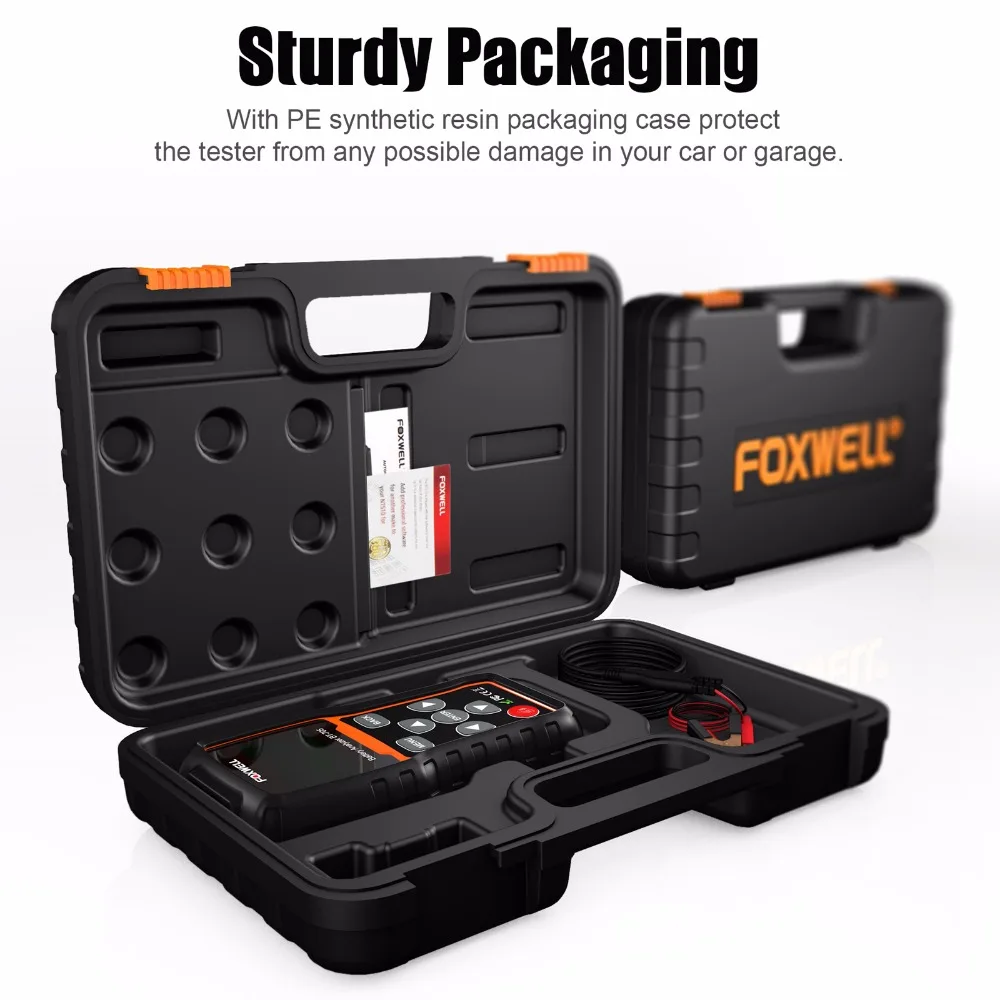 Specifications
Display: Backlit, 128*64 pixels,graphic
Dimensions: 190*90*36mm (L*W*H)
Operating temperature: 0 to 60(32 to 140)
Storage Temperature: -20 to 70 (-4 to 158)

Package including:
1pc×Battery Analyzer BT-705 Main Unit
1pc×User's Guide
1pc× Carry Pouch
how to use BT705 battery tester, follow step guidence:
FOXWELL BT705 Professional Auto 12V 24V Battery Tester Analyzer Diagnostic Car Post Type Voltage Electric Current Test Tool
Foxwell Bt705 Car Truck 12V 24V Battery Tester 100-2000Cca Battery Analyzer Tester Charging System For Agm Spiral Gel B